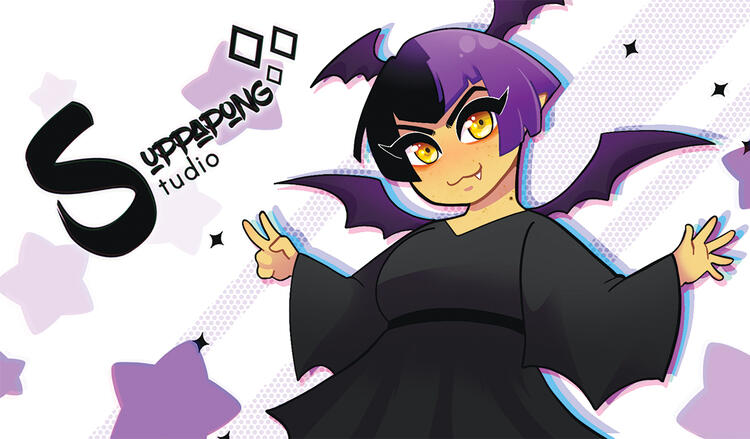 Kayla Suppapong
Suppapong Studio
Artist Alley, Merchandise Designer and Illustrator
---
COMMISSION INFO
Digital Commissions: OPEN
Physical Merch Comms: CLOSED
⭐Terms & Conditions⭐
---
🍓 Will Draw 🍓
OC's, LOVE DnD Characters, Fanart...
🍓 Won't Draw 🍓
Nsfw, heavy gore, heavy mecha (I've drawn warforged before without issue!)
---
🍓 Payment 🍓
-Paypal Invoices
-Payment UPFRONT
---
🍓 Info 🍓
-Please credit me when possible!
-You can print it, use it in PERSONAL games, whatever!
-NO commercial usage
-If you need this by a due date, let me know ASAP
-Once payment is received, I will begin the sketch process. From there, I'll seek your approval and we'll progress the steps depending on the type you ordered!
---
🍓 Contact 🍓
DM me on Insta or Twitter!
Or email me at
[email protected]!
---
⭐Mono-color Portrait Sketch⭐
$10 or 4 for $35 !
🍓 Turnaround time 1-2 weeks 🍓
1 character per sketch
---
⭐Colored Sketch Bust⭐
$25
🍓 Turnaround time 1-2 weeks 🍓
Simple background, 1 character
---
⭐Fully Rendered Portrait⭐
$60
🍓 Turnaround time 4-5 weeks 🍓
Simple background, 1 character
---
⭐Chibi Icon⭐
$20
🍓 Turnaround time 3-5 days 🍓
Simple background, 1 character